A Complete Gummy To Become Your Best Self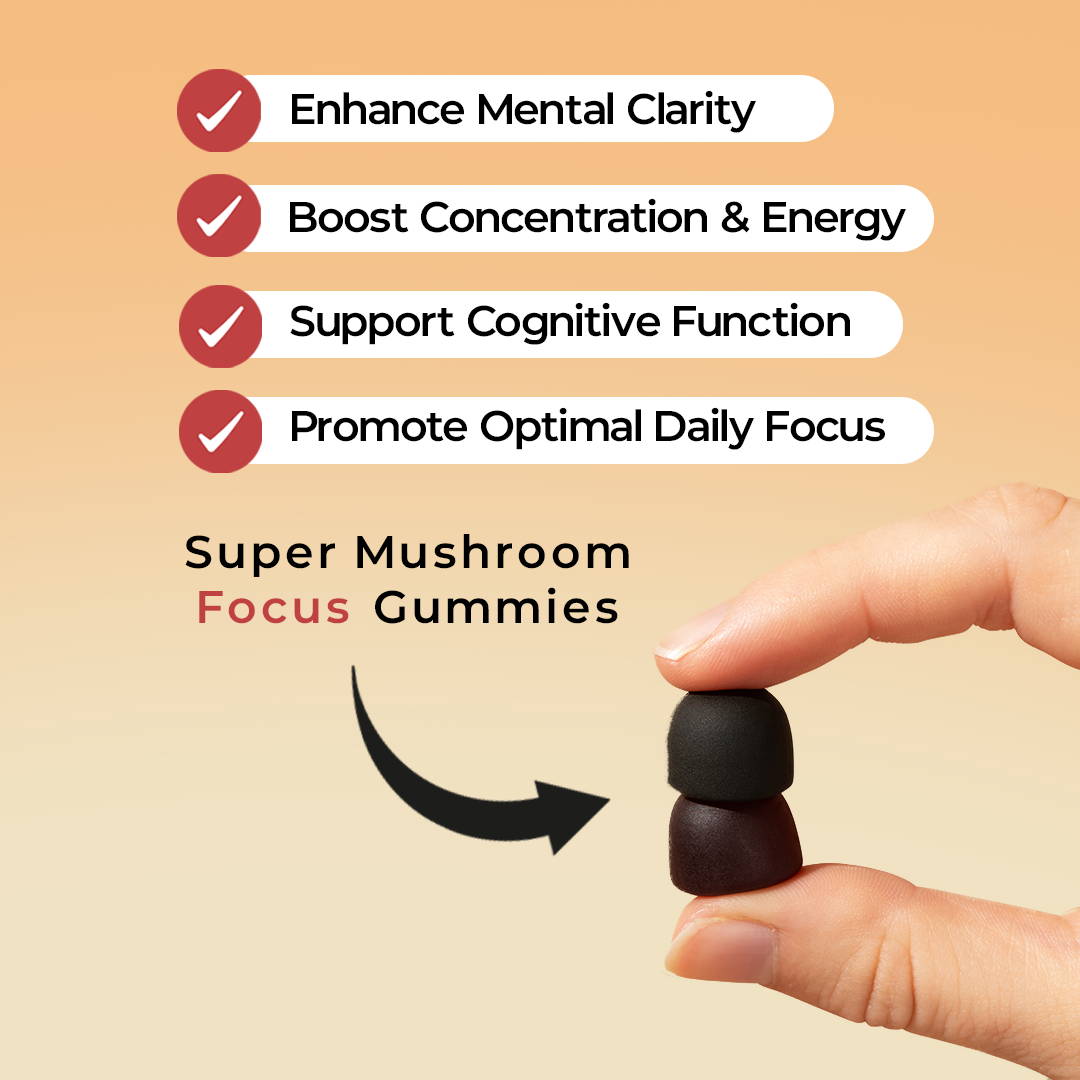 🧠 Enhance Mental Clarity*
Life can be a blur. With a touch of Lion's Mane, our gummies help clear up the mess in your head so you can think straight.
⚡ Boost Concentration & Energy*
Tired of feeling... well, tired? Our gummies, packed with the goodness of Lion's Mane, give you the boost to stay alert and charged up, ready for anything.
🔄 Support Cognitive Function*
Want to think sharper? Our gummies, with Lion's Mane, are like a gym workout for your brain, making sure you're always on top of your game.
🌱 Promote Optimal Daily Focus*
Distractions everywhere? Not anymore. These gummies help you zone in on what's important, keeping you on track all day.
MOST SUPPLEMENTS WASTE YOUR MONEY.
Our bodies are not efficient — only a small share of what we consume gets absorbed into our bodies. As a result, the supplements that we take into the stomach produce little to no result. Try gummy supplements and increase absorption rates up to 90%.
✓ More nutrients per serving
✓ ±90% absorption efficiency
✓ With ingredients that enhance benefits
✓ Chewable and easy to consume
✓ Delicious and easy on the stomach
Capsule / Tablet Supplements
✕ Fewer nutrients per serving
✕ 7%-12% absorption efficiency
✕ Cause nausea for some people
Complete Mushroom Formula For Your Best Health
Promotes mental clarity, focus, and memory. Known for its Nerve Growth Factor (NGF). Celebrated for its cognitive-enhancing properties, potentially boosting focus, improving mental clarity, and supporting overall brain health.*
Experience the power of mushrooms like never before with Lion's Mane + other brain boosting ingredients. Dive into the deliciousness of our gummies and leave behind the bitter aftertaste of traditional mushroom supplements.
Wild Lion's Mane Mushroom, Alpha-GPC & Rhodiola

DIRECTIONS:
Each bag comes with 60 potent gummies. For optimal results, enjoy two (2) gummies per day. Take any time of the day, with or without meal.

NO: GMOs, GELATIN, ALCOHOL, FOOD DYES, FILLERS & JUNK
YES: VEGAN, GLUTEN FREE, TASTES GREAT, 100% REAL, LAB TESTED
Loved By Thousands Around The Globe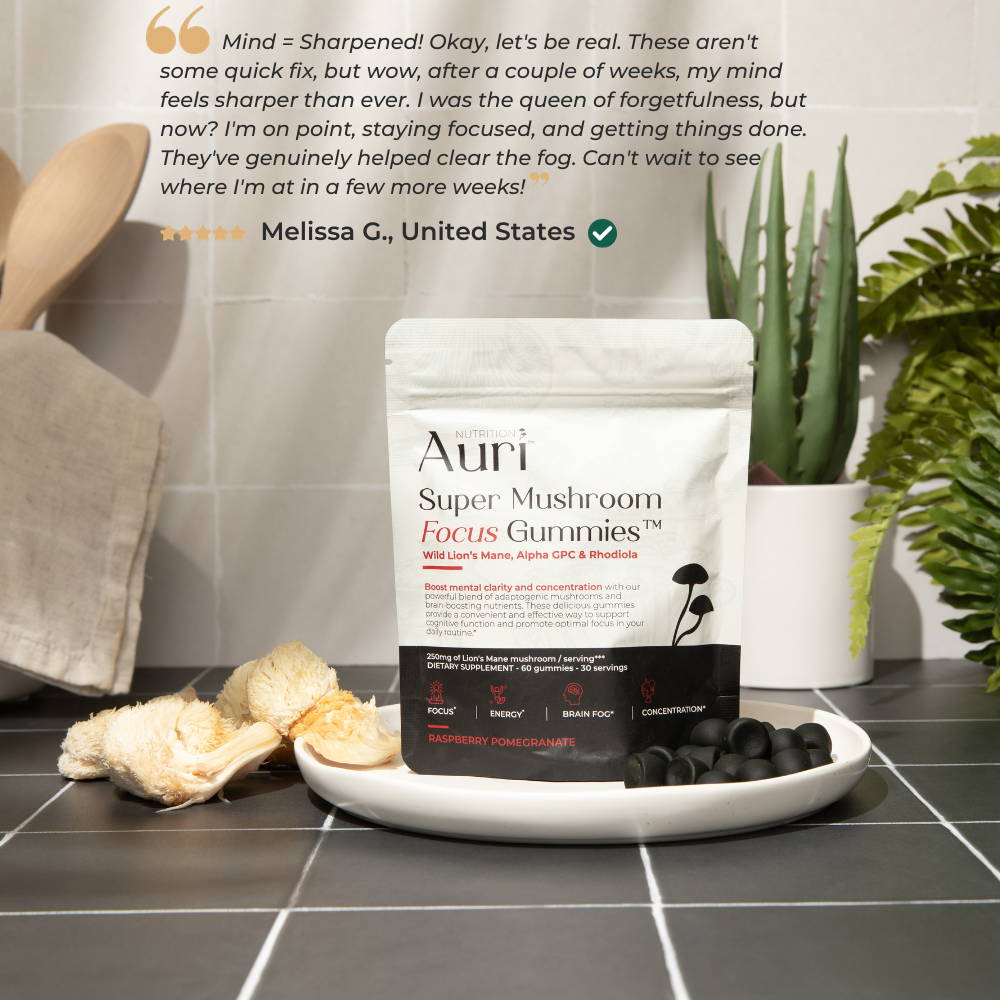 "If you're tired of constantly feeling out of it, give these a shot. They've been a nice addition to my routine, and my mental clarity's been top-notch. I feel so much more productive and focused throughout the day. Bonus: They're yummy!"
- Samantha S.
FOR MY ALWAYS-DISTRACTED GF
"Grabbed these for my girlfriend who's always juggling a million things. She was a bit skeptical but gave it a go. The difference? Noticeable. She's more in the moment, tackling tasks with ease, and that mental fog she complained about? Seems to be lifting. Safe to say, she's a fan now."
- Ryan P.
CONCRENTRATION LEVEL: 100!!
"I was always the one zoning out mid-conversation or forgetting important tasks. Thought it was just how I'm wired. But these gummies? What a turnaround! I've felt this undeniable clarity ever since I started. Conversations are more engaging, tasks seem less daunting, and I genuinely feel more present in every moment. And they're so tasty I almost forget they're a supplement!"
- Tara B.
Feels (and tastes like) magic.
Crafted carfully with premium ingredients
60-DAY MONEYBACK GUARANTEE
We'd be shocked if you didn't feel the effects, and enjoy the benefits of the Super Mushroom Focus Gummies. But in the highly unlikely event that you're not happy in any way — we'll give you every cent back. No hassle. No hoops to jump through.

Whether you don't like the results it gives…

Or even if you simply don't like the delicious, wild raspberry taste...

You're protected by our 60-Day 100% Moneyback Guarantee. Email us at hello@tryauri.com and we'll return every dollar you paid.
Use the below FAQ topics to find an answer! Still need help? Please email us at hello@tryauri.com :)
How is this better than powders or capsules?
Capsules only have a 7%-12% absorption efficiency. That means almost ALL of the ingredients are wasted!
Have you ever tried a mushroom powder? Mostly all of them taste very bad.
Our gummies have ±90% absorption efficiency and also taste amazing!!
Each bag comes with 60 potent gummies. For optimal results, enjoy two (2) gummies per day. Take any time of the day, with or without meal.
Are These Fruiting Body Mushrooms?
Yes! Our mushrooms are all fruting body mushrooms. They are also non-GMO, Vegan, Gluten-Free & All-Natural.
Are These Legal Mushrooms?
Yes, all of the mushrooms included in our gummies are 100% legal.
Are there any side effects?
No. We use natural, science-backed ingredients that have been used in Ayurvedic practices for centuries.
What is your return policy?
Buy with confidence - if you feel there's something wrong, just email us at hello@tryauri.com
You are covered from our 60 DAY Moneyback Guarantee. We offer 100% hassle-free returns with a courteous and prompt refund upon request.
Where are the mushrooms sourced?
All of our mushrooms are made in the USA with globally sourced ingredients. All supplements are manufactured in our New Jersey CGMP certified facility, after rigorous quality inspections.
Our mushroom gummies are 100% Vegan, Gluten-Free, and Non-GMO.
NO: SEED OILS, GMOs, GELATIN, ALCOHOL, FOOD DYES, FILLERS & JUNK