A Complete Gummy To Become Your Best Self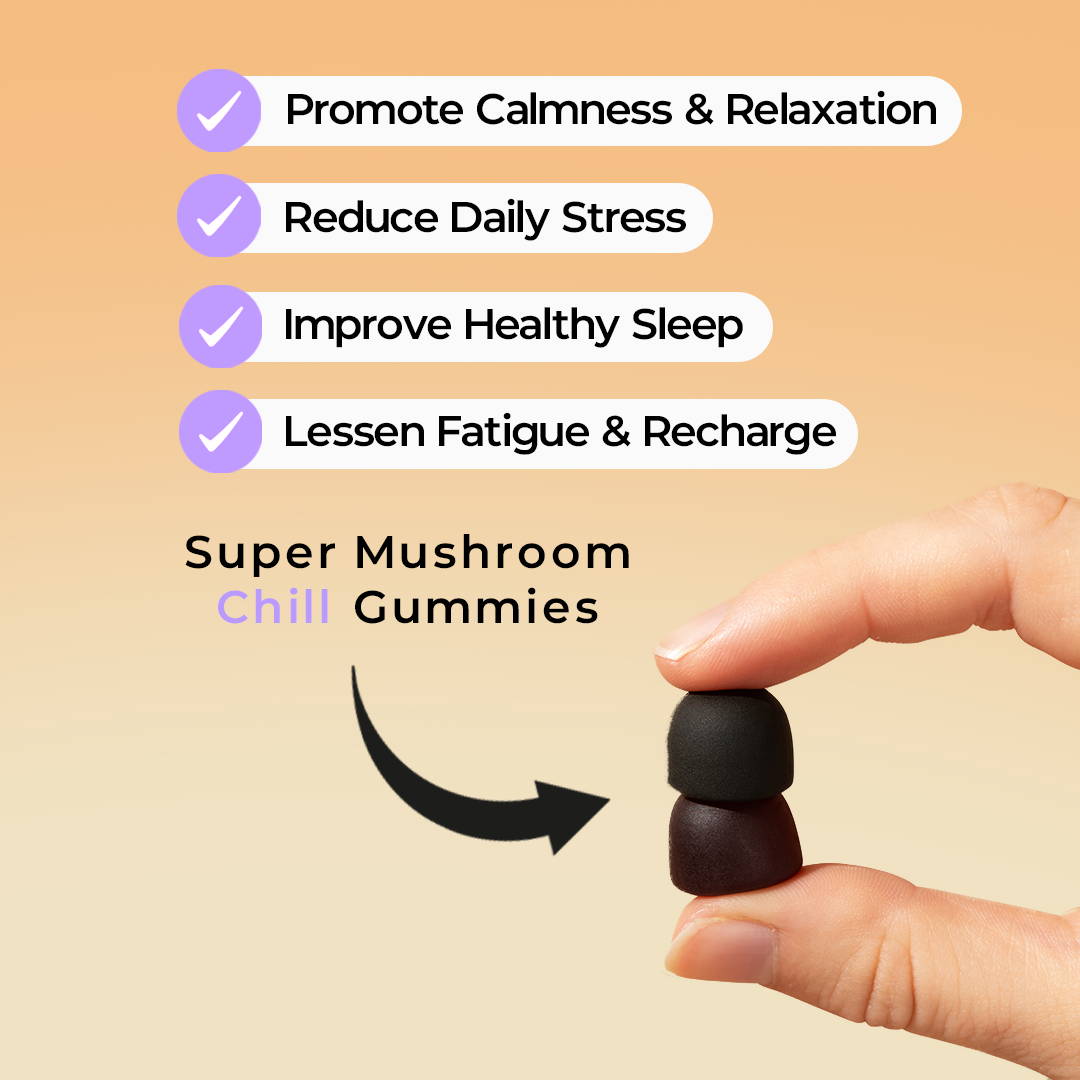 🌱 Promote Calmness & Relaxation*
Experience serenity with each gummy. Our special Reishi-infused formula effortlessly melts away life's tensions, guiding you to a state of relaxation.
🌀 Reduce Daily Stress*
Stay cool and composed, even on your toughest days. Our Reishi-powered blend helps you navigate life's twists and turns, putting stress in the rearview.
🌜 Improve Healthy Sleep*
Reclaim your nights. Our gummies, packed with the natural benefits of Reishi, pave the way for deep, rejuvenating sleep.
🔋 Lessen Fatigue & Recharge*
Recharge and rejuvenate! With Reishi at its core, our gummies kick fatigue to the curb, re-energizing you for whatever the day throws your way.
ALL-IN-ONE GUMMY FOR PEAK RELAXATION
Dive into tranquility with our gummies, infused with the calming power of Reishi. This all-natural blend is specially crafted to soothe your mind, melt away stress, and enhance relaxation. Perfect for everyday use, it's the serene escape your routine has been craving.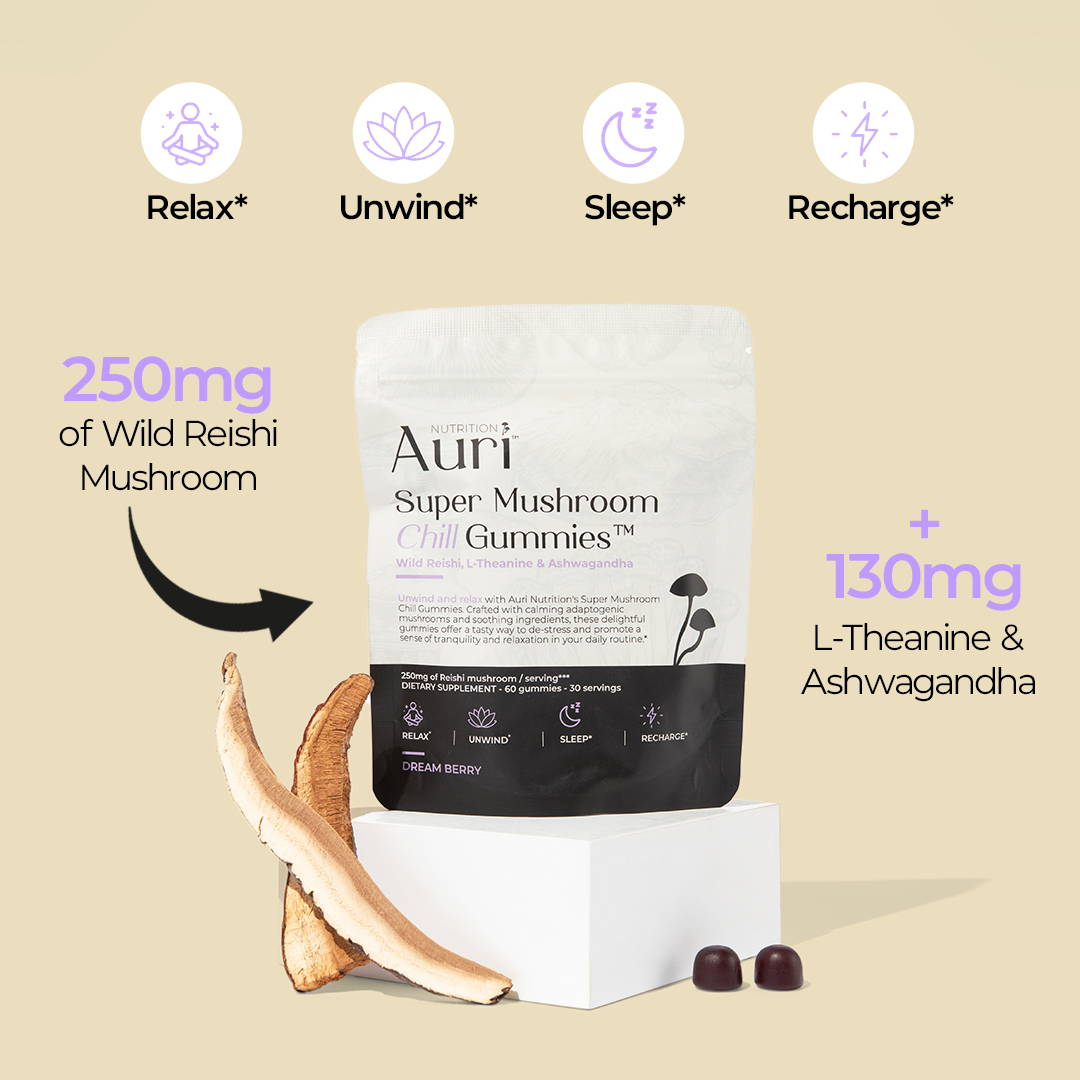 MOST SUPPLEMENTS WASTE YOUR MONEY.
Our bodies are not efficient — only a small share of what we consume gets absorbed into our bodies. As a result, the supplements that we take into the stomach produce little to no result. Try gummy supplements and increase absorption rates up to 90%.
✓ More nutrients per serving
✓ ±90% absorption efficiency
✓ With ingredients that enhance benefits
✓ Chewable and easy to consume
✓ Delicious and easy on the stomach
Capsule / Tablet Supplements
✕ Fewer nutrients per serving
✕ 7%-12% absorption efficiency
✕ Cause nausea for some people
Complete Mushroom Formula For Your Best Health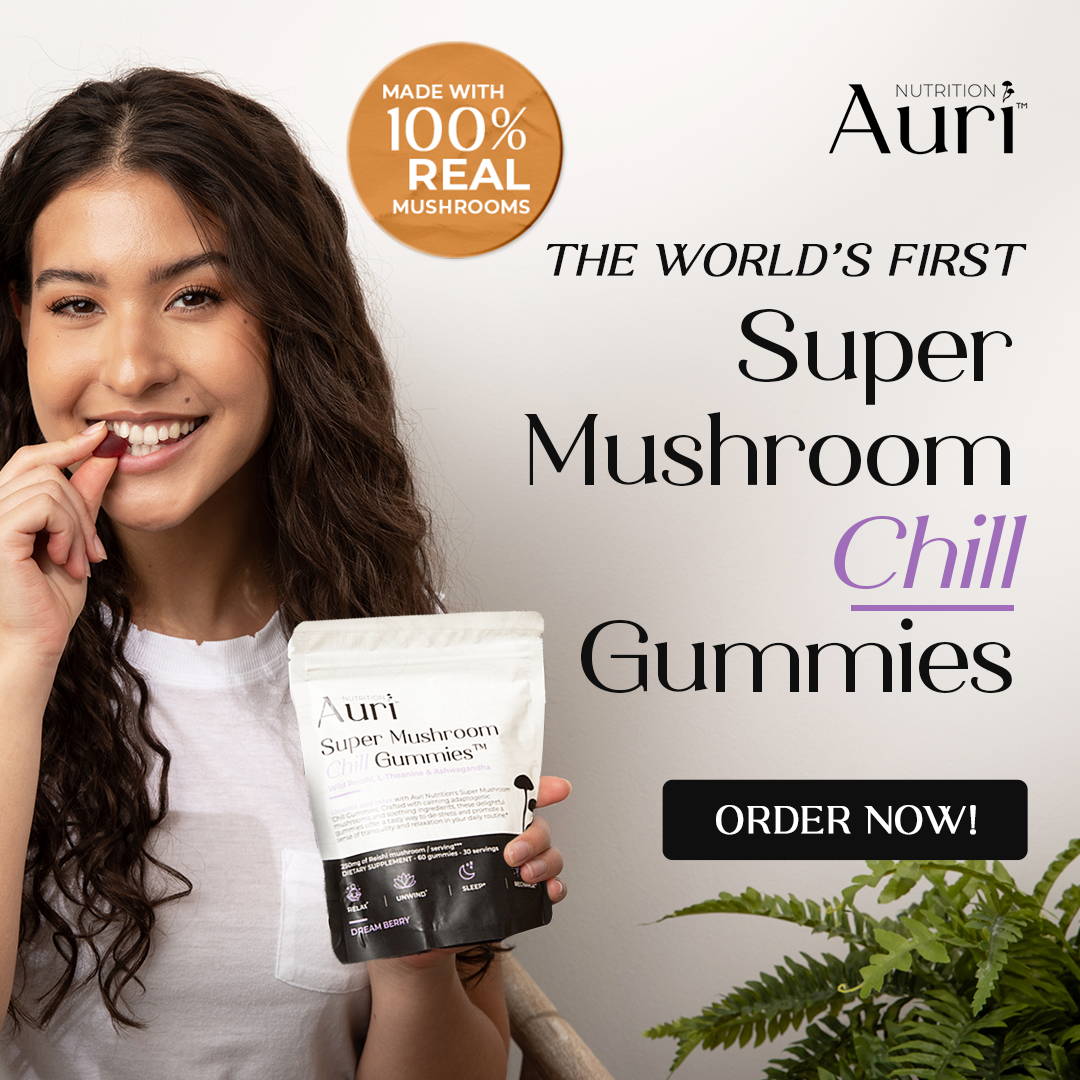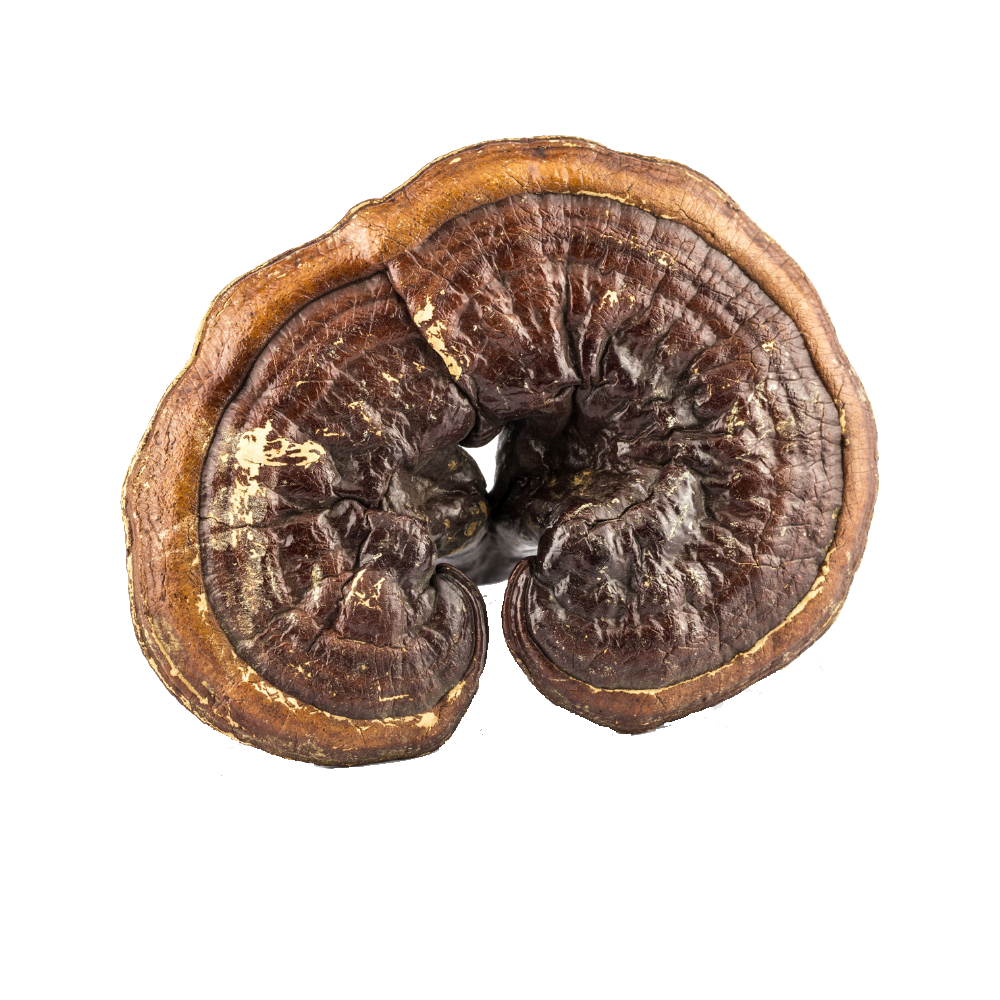 Tap into the calming essence of Reishi. This adaptogenic mushroom boosts energy and stamina while providing a balanced response to stress, ensuring you navigate life's challenges with resilience and ease.*
Discover the serene potency of Reishi, complemented by a blend of adaptogenic enhancers. Delight in our tasty gummies without the usual bitter hint of classic mushroom supplements.
Wild Reishi Mushroom, L-Theanine & Ashwagandha

DIRECTIONS:
Each bag comes with 60 potent gummies. For optimal results, enjoy two (2) gummies per day. Take any time of the day, with or without meal.

NO: GMOs, GELATIN, ALCOHOL, FOOD DYES, FILLERS & JUNK
YES: VEGAN, GLUTEN FREE, TASTES GREAT, 100% REAL, LAB TESTED
Loved By Thousands Around The Globe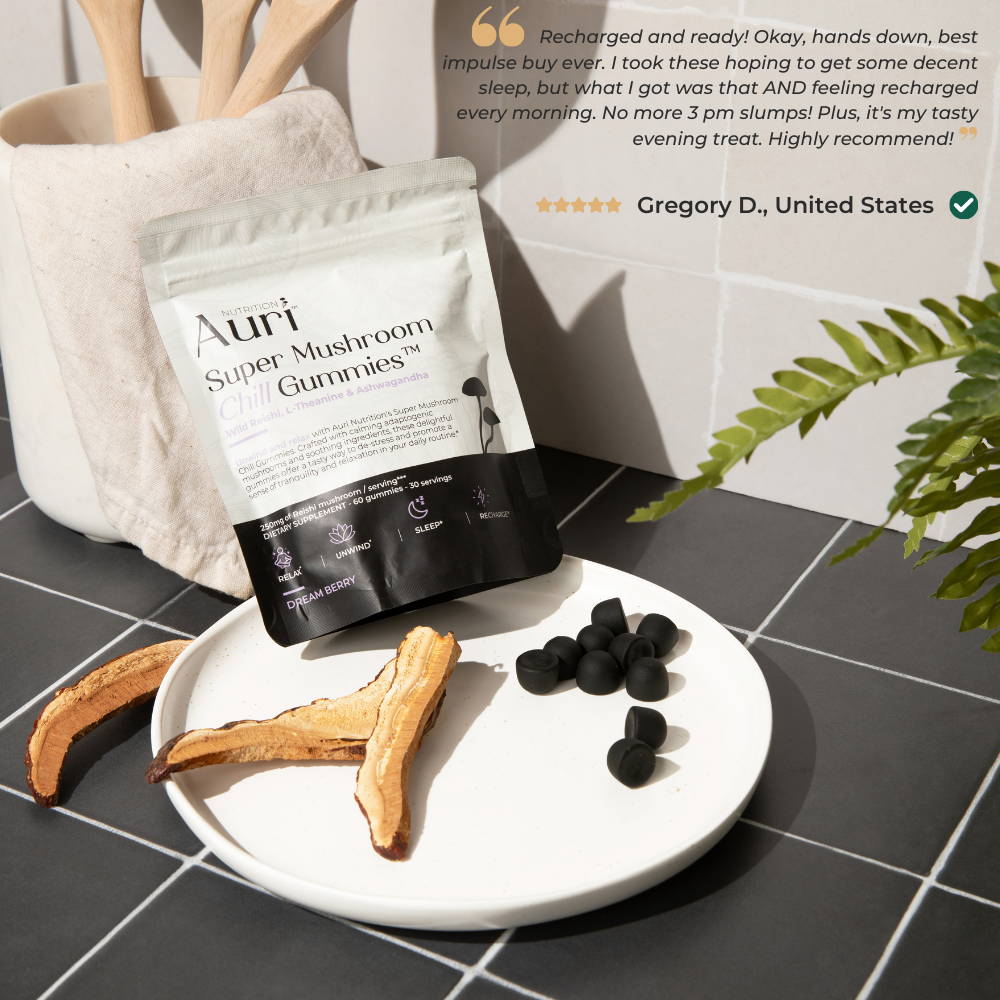 "Got these for my wife who's been super stressed lately. She was hesitant, but man, these gummies delivered! She's calmer, sleeping better, and the best part? Her mood's been uplifted. She's asked me to order more, and I'm happy to oblige."
- Andrew J.
"Who knew? These little gummies, and BOOM, my stress is way down. Between work and life, I was always on edge. Now, there's this calm and peace I haven't felt in years. And the taste? Soooo good! Hubby's jumping on board too after seeing my zen."
- Felicity D.
SERENE NIGHTS & ENERGETIC DAYS
"I was skeptical at first, but boy, these Chill Gummies did wonders. I used to struggle with unwinding in the evening and would dread the morning alarm. But now? I drift into peaceful slumbers and rise with a zest for the day. The bonus is their delightful taste – truly a game-changer for my daily routine!"
- Molly P.
Feels (and tastes like) magic.
Crafted carfully with premium ingredients
60-DAY MONEYBACK GUARANTEE
We'd be shocked if you didn't feel the effects, and enjoy the benefits of the Super Mushroom Chill Gummies. But in the highly unlikely event that you're not happy in any way — we'll give you every cent back. No hassle. No hoops to jump through.

Whether you don't like the results it gives…

Or even if you simply don't like the delicious, wild raspberry taste...

You're protected by our 60-Day 100% Moneyback Guarantee. Email us at hello@tryauri.com and we'll return every dollar you paid.
Use the below FAQ topics to find an answer! Still need help? Please email us at hello@tryauri.com :)
How is this better than powders or capsules?
Capsules only have a 7%-12% absorption efficiency. That means almost ALL of the ingredients are wasted!
Have you ever tried a mushroom powder? Mostly all of them taste very bad.
Our gummies have ±90% absorption efficiency and also taste amazing!!
Each bag comes with 60 potent gummies. For optimal results, enjoy two (2) gummies per day. Take any time of the day, with or without meal.
Are These Fruiting Body Mushrooms?
Yes! Our mushrooms are all fruting body mushrooms. They are also non-GMO, Vegan, Gluten-Free & All-Natural.
Are These Legal Mushrooms?
Yes, all of the mushrooms included in our gummies are 100% legal.
Are there any side effects?
No. We use natural, science-backed ingredients that have been used in Ayurvedic practices for centuries.
What is your return policy?
Buy with confidence - if you feel there's something wrong, just email us at hello@tryauri.com
You are covered from our 60 DAY Moneyback Guarantee. We offer 100% hassle-free returns with a courteous and prompt refund upon request.
Where are the mushrooms sourced?
All of our mushrooms are made in the USA with globally sourced ingredients. All supplements are manufactured in our New Jersey CGMP certified facility, after rigorous quality inspections.
Our mushroom gummies are 100% Vegan, Gluten-Free, and Non-GMO.
NO: SEED OILS, GMOs, GELATIN, ALCOHOL, FOOD DYES, FILLERS & JUNK